Photographic Adventures in Paradise
Categories

Archives

Search

Recent Comments

Recent Posts

Links

Maps

weather

Calender

December 2017
M
T
W
T
F
S
S
« Sep
1
2
3
4
5
6
7
8
9
10
11
12
13
14
15
16
17
18
19
20
21
22
23
24
25
26
27
28
29
30
31

Links

Maps

weather
We visited the Mundaca ruins recently. They now have built a huge palapa style structure at the entrance. ( Sorry no photo of it).  We were showing some Isla Virgins around and stopped there on our golf cart excursion. I found it to be an interesting place. They have a small museum on the grounds with some old pictures of Isla that gave us an idea of what Isla looked like long ago. When I had time I did a little research about the pirate and this is what I found out about him:
The self proclaimed pirate Mundaca was born in 1825 in the village of Bermeo of Santa Maria, Spain. His full name was Feramin Antonio Mundaca de Marechega. During his adolescence he shipped off to seek adventure on the high seas. He eventually became a slave trader in the Caribbean, selling Mayan slaves to Cuban plantation owners. His voyages as a slaver brought him to Isla Mujeres (the Island of Women)  many times. His practice of selling Myan's into slavery did not endear him to the locals. The island got it's name because it is where many pirates would often leave their women for safekeeping while they were at sea. In 1858 the British Royal Navy started to crack down on pirate slavers. So Mundaca now very wealthy, sailed back to Isla Mujeres to stay. He bought 40% of the island and built an estate with a hacienda in the middle of it. He named it "Vista Alegre" (Happy View.)
While building his hacienda and estate , he fell in love with a young Mayan girl the first time he laid his eyes on her. Her name was Martiniana Gomez Pantoja.(born in 1862) She had green eyes like the surf and bronze skin . He built her a beautiful garden with great stone arches where he carved her name, La Triguena, (The Brunette) above the apex. Between the arches he constructed a garden sundial, eight raised garden sections around a well in the shape of an octagon. When La Triguna shunned his advances and wed a local man her own age, Mundaca went insane. (Mundaca was 37 years her senior.) He whiled away his days planting flowers in his garden and wandering the beaches, stuffing stones in his pockets, which he tossed into his well filling it. His discontent grew with the knowledge he could never have the woman he loved. He carved himself a gravestone upon which he chiseled a Jolly Roger, and then built himself a granite tomb in the cemetery. He wallowed the days in sorrow as La Triguena continued to ignore him while she built a family. He left the island in 1880 and died later the same year in Merida of the plague. (He was 55 at the time of his death.) His estate and grave growing old together, without him.

The inscription on his empty grave reads,
"Lo que tu eres, yo fui
lo que lo soy, luego seras"
("As you are, I was – as I am, you will be")
The original entrance to the Mundaca Estate:
The garden pond and viewing benches:
The garden arch, and well filled with stones
The Hacienda ruin:
Small museum containing pictures of Isla  & items relating to Mundaca:
Plaque on museum wall:
Before & after pictures of Isla inside the museum:
View of Mundaca's Estate from the museum rooftop:
'gator pond:
Mundaca's empty tomb in the cemetery near Playa Norte on Isla Mujeres:
Mundaca's Jolly Roger:
Current inhabitants of the Estate:
This was an interesting place to visit. The Estate is huge and there are many walking trails to explore. A large bathroom facility was available. The estate was clean and a fun place to take pictures and learn about the Legend of Mundaca the Pirate. Tip:……..bring mosquito repellent!
The Arena di Verona was built in the 1st century (30AD) and was used for 400 years as a place for the Gladiators to entertain with all the gore that we know about from history.
Once these shows were forbidden in 404AD by emperor Honorius the Arena fell in to disuse and disrepair for century's. Originally a 4 tier structure it now only has a "wing" remaining of the outermost wall which was destroyed by a series of earthquakes in the 12th century.
Then in the early 20th century it was finally discovered to have excellent natural acrostics. So on the 100th birthday of Giuseppe Verdi in 1913 the Verona Opera Festival was inaugurated and it continues to this day.
These are the pictures that I took of the Arena while we were visiting Verona.
 Be sure to come back soon for more.
It started raining in Cancun around noon Saturday June 1st. It continued to rain non-stop for 16 consecutive hours. After a brief top in has rained for 5 days straight. I've had to pump down the swimming pool 3 times to keep it from overflowing. Many streets are flooded and you have to be careful when driving through the deep water. They are saying that we have received 35% if the total yearly rainfall in the last 5 days and that so far we have taken on more water than was dumped on Cancun by hurricane Wilma 7 years ago.
We continue to enjoy our 5th year of retirement here in the sub-tropical climate of the Yucatan. The following are random pictures that I've taken recently. Also a video or two.
First up is a video I made of a giant ray in the Atlantis aquarium in Nassau. It had a wingspan of over 10 ft.!
(Click anywhere on the picture below to open the video)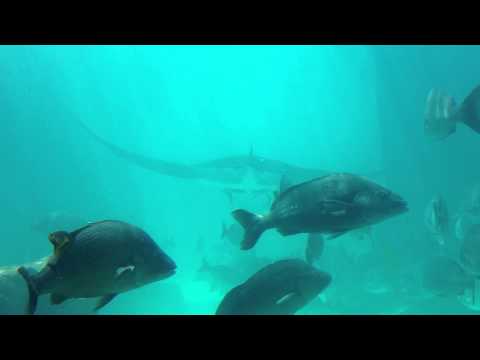 Some of the many artifacts in a restored hacienda in Vallodolid, Mexcio
Jimmy Buffett's Cancun, Margaritaville…..
Wet and Wild water slide in Cancun…….
(click anywhere on the picture to start the video)