Photographic Adventures in Paradise
Categories

Archives

Search

Recent Comments

Recent Posts

Links

Maps

weather

Calender

Links

Maps

weather
Saturday morning we attended the grand opening of a new restaurant in Cancun. It is across from the new Malecon park on the lagoon and behind the new part of the Plaza Las Americas Mall complex.
They are open for Breakfast, lunch, & Dinner
We were served an assortment of breakfast items, juices, coffee, tea and sweets.
The entry signage…..
The exposed kitchen and bakery counters…..
Goodies galore……
and more……
Pre-made salads to go…….
Chocolat's………….yummy!
Gelato's…….
Large high ceiling main dinning room from above…..
Wood carving of a bird in flight……
They will be having wine and cheese tastings in the near future upstairs featuring only wines made in Mexico
All the wines are nicely temperature controlled……
Glass enclosed children's play room on the balcony…..
This is the cook staff…….this is a big place….
The wait staff…..all nicely uniformed……
The blackboard menus above the bakery and kitchen…..this one for their selection of salads, quiche, and torts
Sandwich menu……
cafe, and much much more…..
We had a great time and enjoyed all the delicious samples. This is a beautiful place and we wish them the most success.
Well, one afternoon we were sitting in Pancho Willy's having a beer and nachos……and I noticed this guy flying above the water in the lagoon……
(Click anywhere on the first picture to start the video……)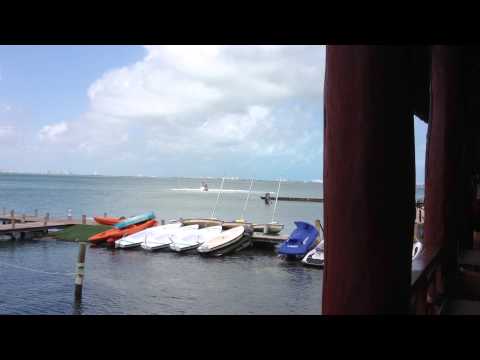 Suzie checking out the flyboarder……dude
You place your feet in these boots and jump in…..
IMG_0322
I guess this 180 elbow either goes in the attending ski-doo or under water…..the water feeds into it and up the long red hose and a motor in the ski-doo pumps the water at high velocity pushing you into the air thru those two handles that you use to steer with ……..all new to me.