Photographic Adventures in Paradise
Categories

Archives

Search

Recent Comments

Recent Posts

Links

Maps

weather

Calender

Links

Maps

weather
Yesterday, August 29th, we spent the day as guests of our friends, Wendy and Burt, who are members of the Royal Resorts here in Cancun. We spent the afternoon enjoying the swim up bar and pool at the Royal Caribbean. Later we enjoyed dinner at the El Conquistador Restaurant next door at the Royal Mayan.
First is a picture of the menu cover…….
Next the 2 pages of choices…….
A complimentary beef pate' was served before dinner which I did not take a picture of. Suffice to say that it was delicious. We requested the wine list and ordered 2 bottles of red……a Malbec and a Cabernet Sauvignon.

Lovely Wendy and newly retired Burt
Myself and my beautiful wife Susie
The Escargots Borguignon and Scallops Conquistador appetizers……
The escargot was spot on delicious.

Wendy said that the scallops were not left on the grill long enough and therefore had a "fishy" taste which she did not care for.
We were entertained by the fabulous guitarist Duran which is one of the reasons we keep coming back…..
Next a bit of pallet cleansing with the complimentary scoop of lime sorbet
Our server Pedro starts to prepare our Caesar salad for 4 table-side…..
Very good.   I really liked Pedro's  version……
Our- just out of the oven- bread……
Pedro preparing Wendy's Steak Diane……
Adding of the flames…..

As served with high compliments from Wendy….
Burt had the Stuffed Filet of Snapper…..
Susie and I ordered the Chateaubriand for two and it was to die for……cooked to perfection medium rare and it practically melted in your mouth. It was served with 2 sauces

Wendy was the life of the party showing everyone how the spoon on the nose trick works……
Deserts were chosen and they were yummy…….this is Wendy's chocolate and ice cream selection. Believe me it was even better than it looks.
Susie and I shared a Cherries Jubilee that I am still dreaming about…..
We really had a good time. With the exception of the scallops everything was perfect. The music from Duran was wonderful. The server Pedro was very professional and the Maitre d was attentive to our needs. Susie and I had the Caesar salad, the Chateaubriand, a glass of wine, a Beefeater martini, a bottle of Cabernet, the Cherries Jubilee and our bill not including tip was discounted 10% because we are "locals" and it came to: $102.82 USD. (One small note. The bill was actually 1,285.20 pesos and they gave us a exchange rate of  12.49:1 when it currently is at 13.35:1 at the local banks. So : they picked up $6.62 USD on the exchange rate.) No biggie just keepin' it real for my readers.
We went for a ride through the neighborhood a few days ago to snap some pictures of the beautiful homes, many of which are for sale.
I really like impressive entrances which some of these homes feature:
Even the children's playhouse had a Venta sign on it…..
The homes built on a corner lot are always extra special here.
This one has been for sale for 5 years. We toured it once a couple of years back.
This one is HUGE and has been on the market for 2 years……..
Something a bit more modest but still very Spanish and nice….
Perhaps one that's a bit more colorful?
How about an unfinished home that you could put your own ideas into?
Original architectural rendering…..I like that pool around the front door…..
Call the local Century 21 realtor about this one…..
Venta and Renta ?     Venta= For Sale, Renta= For Rent…..
We've been in this one many times as it was rented by our good friends Al & Louise who transferred to Puerto Vallarta……
There are so many beautiful homes here in Cancun. Come down and take a look. I think they are reasonable compared to other parts of the world and the property taxes are very affordable not to say anything about the 300+ days of sunshine per year……
A short video from the outdoor basketball court that we use for our twice a month RC car races. You'll see the track layout pieces on the ground that define the course, the scoring bridge that contains the electronics to register each cars lap-times and order in the race. we have small transponders inside each car which  gives them a unique code. We have races twice a month, See our website at:   racingcancun.com
Click anywhere on the video to view it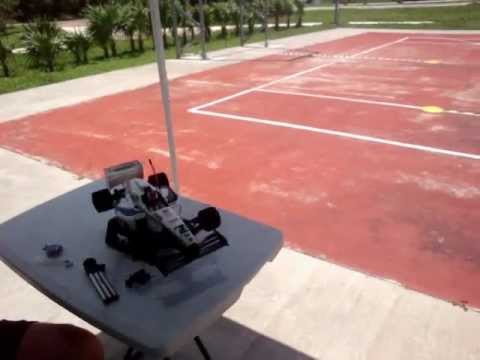 These are some of the cars we race
Subaru WRX 4WD
A Peugeot 905B high down-force sports prototype
Race cars need lots of specialized tires here are 40 for this car….all sorted by size and compound
Lola Indy-car

Dodge Stratus
A few of my club-mates
The track temperature on a hot day
A BMW 1 series
If you could be in one of these cars this is what you would see……
Click anywhere on the video to view it