Photographic Adventures in Paradise
Categories

Archives

Search

Recent Comments

Recent Posts

Links

Maps

weather

Calender

Links

Maps

weather
Well never say die. Last years garden flourished for awhile. Then the constant deluge of rain followed by an invasion of white fly's that I could not get under control wiped the entire garden out. Because I started late last year and also because it was a steep learning curve for me I am trying again but earlier and with fewer plants. I'm going to distribute my planting containers in various places this time instead of concentrating them all on the rooftop patio. Then perhaps if the bugs attack they will only damage some of them. Anyway that's the plan. I should mention that I start with seeds, except for the Garlic which I grow from store-bought household garlic cloves. So far I planted, Problano, Habanero, Cayenne, Jalapeno, Albahaca Grande Basil, Garlic, and Jitimate Bola tomatoes. Should make a good salsa mix when I add Cilantro, Cumin and onions.
Walking down Hildago on Isla Mujeres in late January, 2014
(Click on picture below and then the arrow to view the vid)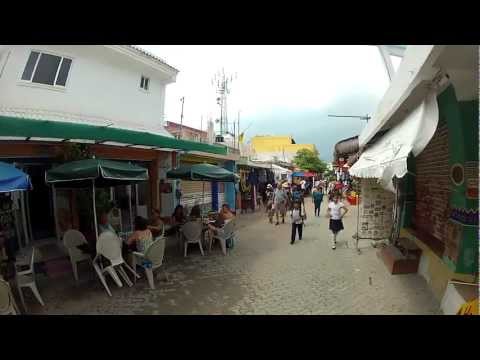 The "Shell House" on the island of Isla Mujeres, Mexico. This beautiful home is shaped like a conch shell, inside and out…….and it can be yours for a week or more as a vacation rental.
Nighttime is even more special……
The beautiful Island of Women…….aka Isla Mujeres lies just 5 miles off the coast of the city of Cancun, in the shimmering Caribbean Sea…..